Well Filter Screen can be supplied in pipe type or panel type. The aperture can be V shaped or slotted holes. We offer a wide assortment of products in all alloys and sizes.

Stainless Steel Water Well Screen

Materials: 304 302 304L 316 316L stainless steel wire.

Processing and features: The welded stainless steel water well screen is made up of supporting rods and wire screening strips. The supporting rod can be round wire, triangular wire or trapezoid wire. The screening filter is made of triangular wire (V-shaped wire). Water well screens have a structure and high opening area, as well as accurate slot dimension. In the same time, water well screen have heat-resisting, anti-corrosive, good machine capability, long life span, safety and reliability and so on characteristics. It can be used in many kinds of medium filtering.


Styles of connection: by welding or by threaded male/female couplings.
Standard length for the well screen: 3m/5.85m. Sizes can be made according to the customers' requirement.
Well Screen Tube Filters:
Pre-packed Water Well Screens are manufactured using our unique computerised machinery, developed in-house, and in which a continuous length of profile wire of a triangular section is fusion welded onto support rods.
This 'V' shaped profile wire is wound around the support rods over the full length of the screen thus creating a continuous slot opening.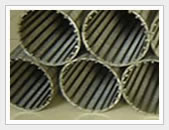 Learn more.

Sand Control Screen
Sand screen mainly consists of perforated pipe filtration jacket and stainless steel wedge wire slot, and backup ring. The base pipe is of API casing or API tubing with many drilled holes. The filtration jacket with punched slot is made of high quality stainless steel, and the spatial slot in high dense array over it is achieved by digital control precise punching.Length, m: 4.8~5.0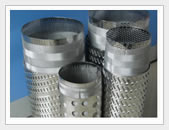 Filtration jacket pipe length: 4 m * 1
9.3~9.6 Filtration jacket length: 4 m * 2
11~12 Filtration jacket length: 5 m * 2
Note: The length of base pipe and precision of filtration can be changed according to customer.

Wedge Wire Water Well Screen
Filter baskets with high openning area suitable for the construction of high-quality water wells,oil wells and gas wells.
The Wedge wire high openning area willl favor groundwater infiltration. Sand's entering into screen will be avoided because of high pressure, thus reduce the abrasion of the well pump.

Learn more.

Sieve Bends Dewatering Screen
Clickclean supplied vibrating sieve bends for mining owners, starch and pulp producers. We supply numerous combination of screen panel for static dewatering equipments. The dewatering screen have gravitary feed. The solid particles and the liquid are separated on a bend or folded wedge wire screen. The liquid flow through the panel screen, altought the solid particles roll down.
Tilted wires panel screen is usually adapted to each particular application to achieve optimized dewatering performance.
SIEVE BEND DIMENSIONS AND END BARS
WEDGE WIRE CONSTRUCTION
WIRE REF 50 80 100 120 150
WIRE WIDTH MM: 0,5 0,76 1 1,2 1,5
ROD TYPE C20 ou C21
ROD SPACING 17 ou 9 mm
Learn more.
Straight Wire Screen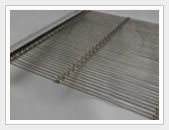 To specify the pre-tensioned sifting screen, wire diameter, center spacing, mesh and edge types shall be mentioned. Clear openings: Specify actual dimension of space between inside faces of adjacent parallel wires.
Mesh openings: Mesh is the number of openings per lineal inch, counting from wire center to the next parallel wire center. Be sure to specify wire diameter.
Also:

Small diameter well screen (sand point) between 25 and 65 mm diameter.
SS 304 well screen (continuous wire wounded) of diameter 250mm, V shaped slotted type. Open area not less than 20%. Slot width 1mm maximum.

Large Diameter Stainless Steel 304 Wellscreen, Fitted with Well Casing and thread protectors.
Construction
Slot = .020, Material = 304 SS
Screen length in feet = 19.77
Top Fitting = Male thread, NPT
Bottom Fitting = Female thread, NPT
Screen Run Length = 237.99 +/- 0.250
Screen Cut Length = 237.24 +/- 0.250
148 Wire 150 Rod
Dimensions: 249 in. x 9 in. x 9 in.

Popular Well Casings for Export:
6-5/8' OD x .280 Wall Black Steel, NPT pipe threaded both ends NPT. A53B I, 20 ft. in length, Thread Protectors
Surface Casing: 12 1/4' ID. plain end(beveled), .375 wall, 20 ft. length.