Also known as oil sand controls screen pipes, laser cutting well screen pipes, well screen liners, bridge slotted screen cylinders for Heavy Oil production. The slots are laser cutting with precision micron openings, distributed in straight line, parallel, crisscross, bridge, spiral and other patterns. Heavy oil is filled with sand and other sedimentary material. The slotted screen pipe casings are used to filter more than 98 percent of the sand out while the oil well is being pumped. Also applied in water well manufacture.
The oil well screen casings are mainly used for surface casing and protection. It can be produced according to three standards: Chinese standard, German Standard and American Standard.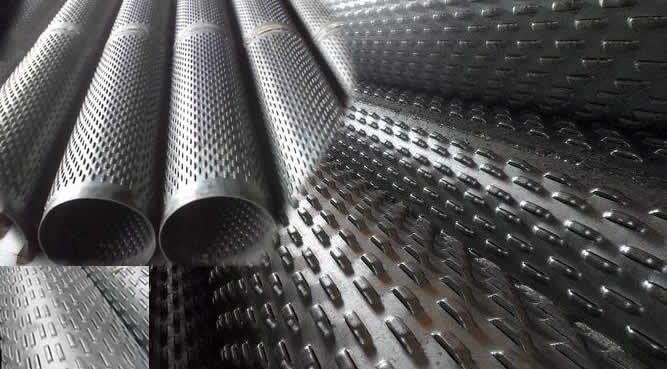 All the slotted joints are deburred internally, cleaned and drift tested according to API standards. Every slot is visually inspected and cleaned of burr material. All threads and couplings are thoroughly cleaned and lubricated.
The slotted oil well screen casing pipe is a robust and cost-effective solution for long completions or low productivity wells.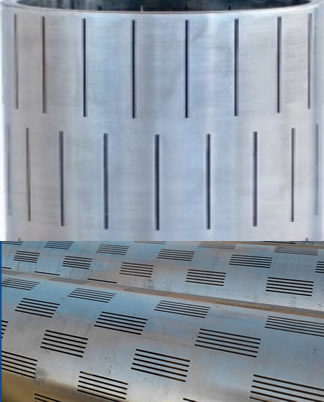 The laser cutting can be straight line and keystone slots in a wide range of slotting patterns to satisfy the required open area.


Slotted Liners for Oil Well Screen enjoy the following features:
Robust and cost effective;
Precise slots opening and effective sand control;
High rigidity;
High intensity;
Anti-corrosion;
Uniform distribution.
Main Technical Information:
Material: stainless steel, carbon steel
Length of pipe(single):≤15m
OD:50 to 200mm
Pipe Wall thickness:≤16mm
Width of slot: (0.10-0.40)mm±0.03mm
Number of slots: according to design
Distribution types of slots: straight line, parallel, crisscross, spiral
Distance of slots: according to order or design.
Major Types
Well Screen Liners 304 Grade Stainless Steel (SS)

Well screens with 4-inch (101.6 mm) inner diameter (ID) with either 0.010-, 0.020-, 0.040-, or 0.040-inch slot widths (0.254-, 0.508-, 1.016-, and 2.032-mm widths, respectively) in 10-foot (3.048 m) and 5-foot (1.524 m) sections, 4-inch (101.6 mm) ID PVC solid casing in 10-foot (3.048 m) and 5-foot (1.524 m) sections, a 4-inch ID PVC end cap, and a 4-inch PVC well plug.
All materials are compatible/interchangeable.
Laser Slotted Screen Pipes for Oil Well Screens

Straight slot well slotted liners
Casing pipe length:≤15m (each)
Outside diameter :50-500mm
Thread: BTC,LTC,STC
Slot width:(0.10-4)mm±0.03mm
Slot number:as per customer's requirement
Slot shapes:straight in line pattern, staggered pattern ,spiral pattern
Slotted casing with apertures of 0.20-6mm are widely used in protection of oil wells .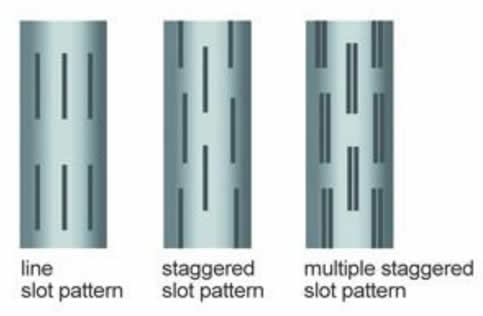 Markets of Heavy Oil Well Screen Liners:
Clicean slotted liners are mainly used in China, also export to Canada, Columbia, Venezuela, Mexico, Abu Dhabi, Russia, Australia and Africa.
Our pipes come with slots range in width from .010 (10,000th) of an inch up to .250 (one quarter) of an inch. The slots are usually between one and a half and two inches long.
Specifications of Different Standards
Chinese Unit
English Unit
Outside Diameter
Wall Thinkness
Outside Diameter
Wall Thinkness
21.3mm-508mm
4mm-60mm
1/2'' - 14''
Sch40-XXS
Material and standard
Item
Chinese Standard
American Standard
German Standard
(1)
10#
A53-A
St37
DIN1626
A106-A
St37-2
DIN17175
A179-C
St35.8
DIN17175
(2)
20#
ASTM A 106-B
St45-8
DIN17175
ASTM A 53-B
St42-2
DIN1626
ASTM 178-C
St45-4
DIN1626
(3)
45#
ASTM A1045
CK45
(4)
16Mn
A210-C
St52.4
DIN1629
St52
DIN1629
(5)
37Mn5
J55
Application
Used in petroleum, chemical, electric power, coal, machinery, high and low pressure boiler pipe, hydraulic prop, marine and other industries
Cliclean comes with solutions! Welcome contact us with your specific orders or drawings.