Slot wire inline filter is to be plugged with sediment. The inline sand filter is composed with wedge wire slot and perforated tube normally. Sand control screen pipe is used to separate frac sand from water.

Wedge Wire Slot

MOC : Hastelloy C276
OD : 70mm
Flow : Out to In
Wire : 100/ C20
Length : 1000 mm long
Micron rating : 25 Micron
The wedge-shape section plane can avoid blockage, and make sure of the unimpeded water. The consecutive slot have more open area, and it can reduce the speed of the water entering to avoid the sand entering the screen under the great pressure, so the screen pipes can filter sand better.


25 Micron

Screen for Out to In Filtration

Perforated base pipe and stainless steel vee wedge wire filtration jacket
Slotted Perforated Tube
Perforated screen pipe has very accurate slot openings and pore sizes to ensure reliable sand control. The combination of perforated pipe and filter offers great resistance against plugging and superior mechanical strength.

The perforated base pipe has many drilled holes. The filtration jacket with punched slot is made of high quality stainless steel. The slot in high dense array over the pipe screen is achieved by digital control precise punching.


Spiral welded perforated tube with unique spiral distribution formed by spiral welding offers greater filter strength. When squeezed from external under outside pressure, the forced part will have reduced or closed gap and ensures the reliability of sand control. Made with sophisticated technology, stainless steel filter glove has openings in the side with reduced direct corrosion to the perforated welded sand pipe. Seam gap in the processing ranges between 20 mm-0.7mm. The uniform opening ensures the processing difference is within the error scope allowed - 0.015 mm, also ensures the accuracy of its filter requirements. Using high precision perforating technology, the effective slotting length is the three to five times of common cut seam tube and two to three times of common perforated seam tubes.

Sand Control Center Tube has high precision perforated tube with standard oil and glove tubes. The spiral perforating form of the center tube reduces the opening area of the tube cross section and maintains the strength of the center tube to the maximum. The sand is blocked outside of the perforated screen while the oil, gas or water goes through the perforated opening then enters into the screen.

Common Sizes of Perforated Tube for Sand Control Screen:
Pipe Wall thicknesses: 3-10mm.
Pipe OD: 33-600mm.
Minimum slots: 0.05-3mm.
Tube Length: 3m, 5.8m, 6m, 9m, 0.5-12m.
Width: 25-1200mm .
End connection: Screw thread, snap joint, and Flange.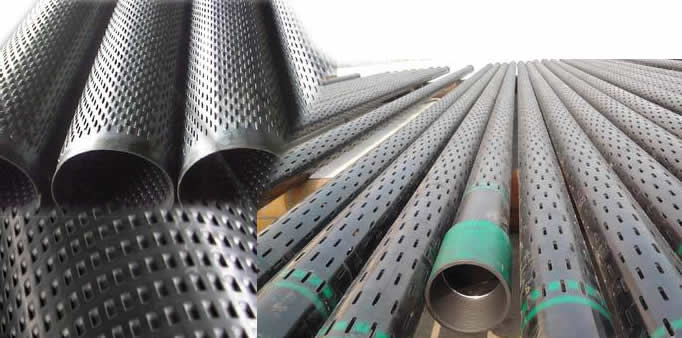 Detail Specifications:
Pipe Size

Holes per feet

Size of hole

Perforated Area per Feet

3/4"

78

3/16"

2.15

1"

54

5/16"

4.14

1-1/4"

66

5/16"

5.06

1-1/2"

78

5/16"

5.98

2-1/16"

78

5/16"

5.98

2-3/8"

90

3/8"

9.94

2-7/8"

102

3/8"

11.26

3-1/2"

126

3/8"

13.91

4"

138

3/8"

15.24

4-1/2"

150

3/8"

16.56

5"

162

3/8"

17.88

5-1/2"

174

3/8"

19.21

6-5/8"

186

3/8"

20.53

7"

222

3/8"

24.51

9-5/8"

294

3/8"

32.46
Popular Filter Pipe Size:
Pipe Length, m: 4.8~5.0
Filtration jacket length: 4 m * 1 , 4 m * 2, 5 m * 2
Note: The length of base pipe and filtration rating can be changed according to customer.
Properties of Slotted Sand Filter Cylinders

For wells containing H2S, CO2, high-Cl or that has special requirements, the filter tube can be corrosion-resistant casing or tubing. Sand Screen is normally stainless steel 304 material with acid and alkali resistance and salt corrosion resistance.
The Compound Grading Sand Control Screen has adopted unique grade sand control with the surface filter and deep filter combined together to form a double precision. This is the new breakthroughs in the field of mechanical sand control designs. Offering high penetration, high Strength, highly resistant to deformation, high reliability, good corrosion resistance, this is the most effective sand control products at this time.
Cliclean comes with solutions! Welcome contact us with your specific orders or drawings.