Oil & gas well and water well screen of wedge wire structure, fitted with slotted tubes / liners for well screen casing protection and support. Also known as V Slot Well Screen, Water Well Sand Filter or Well Screen Strainer.

Cliclean also supplies Stainless Steel couplings, flange and other fittings for the complete SS well screens. The screen is connected by welding or threaded male /female couplings. It can be used in many kinds of medium filtering.
Product Types

1. 4" & 5" Stainless Steel Wedge Wire Well Screen:
Designed to be installed inside an existing 6" Water Well.
Well Screen Length: 2 m x 20 pieces
Slot size: 1mm
Both Ends: Male / Female threaded ends

5 " Wedge Well Screen Designed with Slot 0.25mm
Wedge wire screens sizes:
1. Od699mm x Id679 x 210mm, 0.25mm slot
2. Od799mm x Id779 x 210mm, 0.25mm slot
3. Od630mm x Id610 x 280mm, 0.20mm slot
4. Od730mm x Id710 x 280mm, 0.20mm slot

Material: SS 304

2. Water well screen Ø 800 mm
Material: SUS 316L
Fittings: TEE
3. Gas and Oil Well Screen

SS 304 Well casing pipe for drilling, fittted for round v wire 0.002mm 1.00mm slot well screen

Stainless Steel Multilayer Water Well Screen
Material: SS 304, 316

4. Stainless Steel Well Screen with Continuous Slot of 0.030 inch:
Diameter: 14"
Material: ANSI 304
Fitting: NPT thread or flush thread
Construction: Welded of supporting rods and wire screening strips. The supporting rod can be round wire, triangular wire or trapezoid wire. The screening filter is made of triangular wire (V-shaped wire).
Standard length for the well screen: 3m/5.85m. Sizes can be made according to the customers' requirement.
Styles of connection: by welding or by threaded male/female couplings.
5. Well Screen Strainer of Flat Panel of Monel 400
Item: Well Screen Flat panel Strainer
Material: Monel 400
Size: Width -7 ¾ Inch & Length - 90 Inch
Width: 7 ¾ inch
Length: 90 inch
Slot: 0.030 inch, total 11 slot per inch
Support Rod Gap: 9/32 inch
Construction: Vee Wire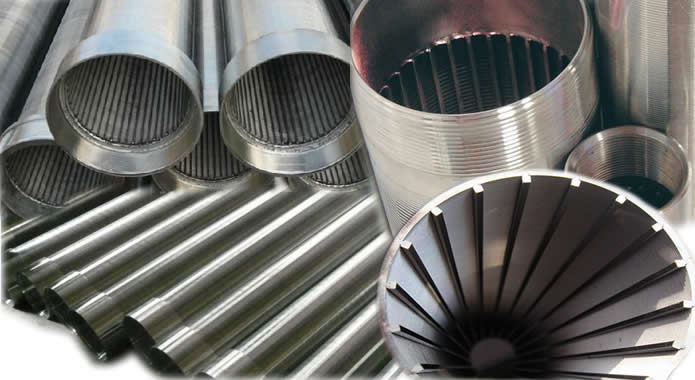 6. SS 304 Well Screen with Large Diameter for Special Well Pumps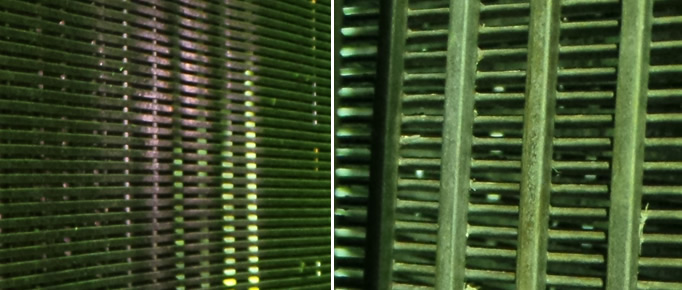 General Technical Information
Profile wire or wedge wire material:
Width(mm):1.5,1.8,2.3,3.0,3.3,3.7,4.0,4.5
Height(mm): 1.5,2.2,2.5,2.7,3.0,3.6,4.0,4.3,4.5,4.70,5.5

Support rods:
Width(mm): 2.0,2.3,2.5,3.0,3.3,3.7,4.0,4.5.
Height(mm): 1.5,2.2,2.5,2.7,3.0,3.6,4.0,4.5,4.7,5.5.
Round rods : diameter from 2.50mm to 6.0mm. 1.8,2.3,3.0,3.3,3.7,4.0,4.5.
Height(mm): 1.5,2.2,2.5,2.7,3.0,3.6,4.0,4.3,4.5,4.70,5.5.
End Connection: By welding or by threaded male/female coupling.
Slot Size: 0.05,0.08,0.10,0.15,0.20,0.25,0.30,1.0,2.0,5.0... 45mm also achieved upon request.

Product Features:
1. Continuous opening and high porosity of the SS well screen have greatly increased the water flow area.
2. V-type profile of the structure to avoid clogging and ensure smooth flow.
3. Continuous long-term effective use of the pores.
4. Trapezoidal filter pipe offers a solid structure, high porosity, and accurate poring.
5. Trapezoidal wire filter pipe is easy for washing, long service life, safe, reliable, comprehensive and low cost.
Benefits of Using:

1. Low cost operation: SS water well screens with high openning area shall favor groundwater infiltration. Abundant water shall reduce the water level's down, thus to save energy consumption.

2. Reduction of the abrasion of the pump:
Under the same condition, high open area can make the speed of groundwater's entering into the screen much more slower than any other filtration apparatus, which will avoid sand's entering into screen because of high pressure, thus reduce the abrasion of the pump.

3. Extend the life span of water wells:
Comparatively, groundwater's entering into screen with higher open area is much easier than the entering into lower open area metal wire screen.The slow water flow shall extend the life span of the water wells.

4. Reduced consumption of treated water for backwashing
5. Savings in filter height and volume
6. No maintenance, repair or shutdown
7. No need for suspended filter floor
Uses: Stainless steel well screen can be used with the deep well pump for the deep well operation, also used in the water-treating equipments and the environmental protection.

Detail applications listed as below:
1.The sea water transforming into the industrial water and life use water via desalination treatment, running water treatment, water softening treatment.
2. The petroleum industry: Terminal filters and filter screen for the chemical acid, the alkali liquid, the ethyl alcohol and other organic solution recycling filters.

Certificates and Guarantee:
Cliclean supplies the original manufacture offer, dimensional drawing, specification and the offer for review and approval of the users before shipping;
We offer Materials Mill Test Certificate along with product;
We offer certificate of origon and other certificates upon request.

Please refer to our PDF file for Technical Data of SS Water Well Screen
Cliclean comes with solutions! Welcome contact us with your specific orders or drawings.