Cliclean supplies V Wire Wrapped Wedge Well Screen ( of stainless steel materials of SS 316 or 304). It is composed of ss bar with channels and holes covered with wrap around stainless steel wire. This continuous slot wire strainer is a kind of water filter tubing, mainly used in deep well construction and water treatment. Also known as re-rolled screen. Four factors are important in manufacturing: inside diameter of the well screen, slot opening, wire width and sides connections to bolt on the equipment. Cliclean has experienced staff to provide alternative fabrication solutions for customers aiming at saving cost without sacrifying quality. We supply standard or OEM specifications according to coming drawings or samples.​

General Technical Information
SS 316 spiral wound Wedge Wire Screen Cylindrical Element has opens at both ends, Flow direction - In to out.
Degree of Filtration for above Wedge wire Screen is 120 Micron;
​Well Screen ​Size - 34 ​0​mm ID x ​700mm HT, the preferred ​W​edge ​W​ire ​Section ​ 1.2mm x 2.8mm;
​Screen Bottom Stainless Steel Ring Size 340mm ID X 6 mm Thickness x 15 mm Height;
The screen is welded type.


Ladder Form Wire Spiral Wrapped Well Screen with 5/8" slots x 1/4" wire, end connection at 90 degree, as drawings above.
Product Types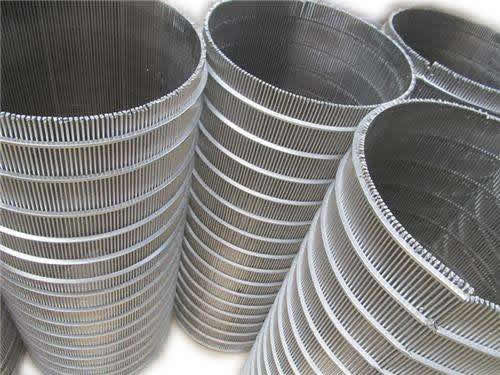 1. Stainless Steel Wire Packed Well Screen from Inside to Outside Filtration
Length: 1100mm
Diameter: 192mm
Micron range: 10-25 micron
Up side and bottom side are open
Filtration: from inside to outside
Material: ss316 stainless steel
2. Wedge Wire Mesh or Bilfinger Wire Wound Water Well Screen of A manhole 18"
The screen has Ø1160mm with opening Ø1,19mm, a manhole 18". Each section with their respective frames.
(Malla tipo ó Wedge Wire ó Bilfinger Ø1160mm con abertura de Ø1,19mm, debe venir en tramos para introducir por un manhole de 18" y cada tramo con sus respectivos marcos como se.)

3. Wire Packed Re-Rolled Wedgewire Screen Cylinder:


316 stainless steel wedge wire or profile wire cylinders, 600mm diameter x 700mm long with 50 micron apertures.
The re-rolled screen has a 12 inch diameter opening. The wedge wire needs to be 4 feet wide by 8 feet long. The wedge dimensions reference is 1/16 inch wide by ¼ inch long with a 13° bend.
4. V Shaped Wire Mesh Screen Welded Strainer
Wire wrapped screen pipes reinforced with reversed slots. This type of filter tube is made in stainless steel materials 304 or 316 grade. Also known as screen cylinders, stainless steel slot tube and strainer pipes.


Material : Low Carbon Steel, AISI 304, 316, 316L , etc.
Slot Size : 0.10--6.0mm
Diameter : 25--1200mm
Features:

1. Wire Wound or Packed Wedge Wire Screen can be supplied in cylinder or basket shape, also in panel shape.
2. Clicean wedge wire filter baskets /cylinders are provided with couplings and other fittings as well.
3. Mainly supplied in Stainless Steel 304 or 316, this filter elements are corrosion resistant and alkaline and acid resistant.
4. Comparing with common pleated wire mesh filters, Wedge wire's unique SLOT profile with supporting rod enables both High filtering accuracy and High strength and durability.
Cliclean comes with solutions! Welcome contact us with your specific orders or drawings.